Tricked by case count? Mortality is spiking in NL
In making critical decisions, consider the all-cause mortality from CBS
All-cause mortality spike: It's the beginning
According to official data, there have been 2,955 COVID-19 deaths in the Netherlands, but this is probably an understatement. Just in the first week of April 2020 there have been 1,900 more deaths than in the same period in 2019, an indication that people are dying because of the coronavirus without being recorded as such. The situation is more dire that it seems. See this graph from CBS.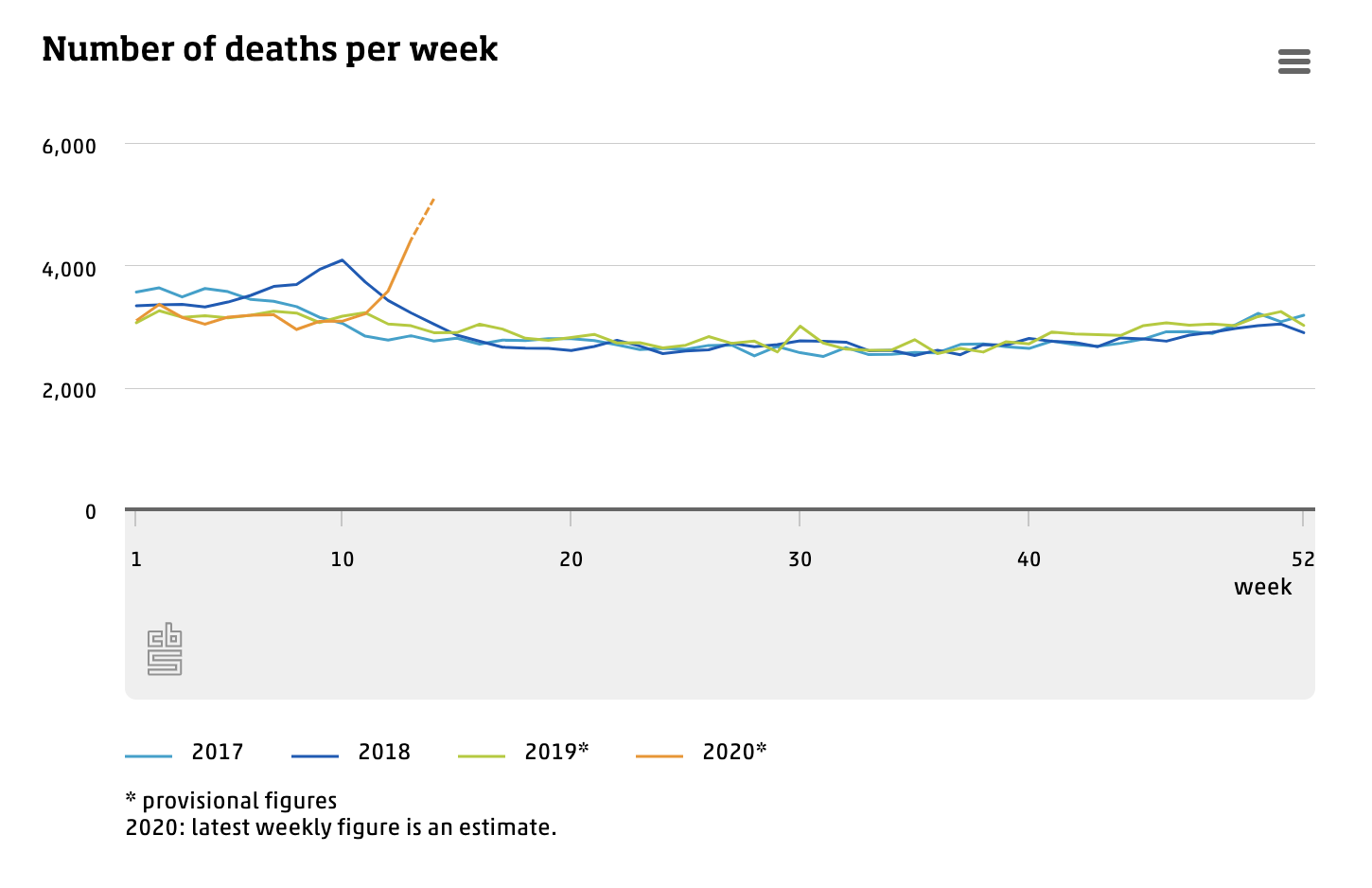 If the experience from Italy, France and Spain can teach anything, is that deaths will keep rising. Italy began its nationwide lockdown when there were 631 official deaths, 17 days after having quarantined the first clusters; as of today, there have been 19,899 – and the number keeps growing every day.
The pandemic has its own momentum
The pandemic, like all problems, grows the size it needs to be acknowledged. Unlike other problems, it has momentum, and it keeps growing for a few weeks after it is addressed. Hence the need to tackle it as early as possible, as strongly as possible.
Of course, doing so has costs: financial, social and political. Hence the necessity to carefully evaluate the tradeoffs of a reaction. However, such tradeoffs need to be evaluated not with today's number of deaths, but with the number of deaths projected in a few weeks' time – for the actions taken today will take weeks to show their effects. Meanwhile, the infected keep infecting others, whether we know it or not.
So, what is the right course of action?
COVID is a tough opponent: stealthy, deceptive, fast and cruel. Lockdowns are helpful but they aren't enough. The US case rate is still growing. Italy with a national lockdown has a very slow decline in cases. Austria is more successful, but their actions started early. Things will get worse before they get better, but we can win by anticipating it and going all out. Once we do, we can stop it in 5 weeks. After difficult losses and with important lessons learned, we can return to a normal life.
There are a few quick wins which can curb the spread at a minimal cost (compared to their benefit).
Compulsory face covering on public soil, in shops, in public transportation and in offices. Medical masks would be optimal, but in their absence, do-it-yourself cloth masks or even a scarf are much better than nothing. They might not be fully effective, but if everyone wears them, the effect compounds quickly.

Isolating the sick. About 80% of contagions are within family groups. Clear communication should address this problem, followed by door-to-door screening. Severe cases can be hospitalized whereas mild and moderate ones should be separated from their families to protect them. Hotels, school dorms and other currently unused facilities can be used to temporarily provide a separate accommodation for such cases.

Plan for Phase 2. It is inevitable that different Dutch provinces will be hit differently. The hardest hit will require stricter restrictive measures for longer and the less hit ones will be able to return to normal life earlier. If travel is restricted between them, that is. Otherwise, the infection will keep spreading as in communicating vases, requiring the whole country to slow down, again, for longer. Most probably, a recovery strategy will consist in the creation of red zones, yellow zones and green zones, with different policies applied to each. The more travel between cities and provinces is restricted today, the smaller will red zones be. Restricting travel today allows for a faster recovery tomorrow.
Be decisive, limit your risks
If we can extract a lesson from other countries, the pandemic requires them to act decisively, and the later they do so, the more costs they will have to pay.
Today, the Netherlands can take decisive action. If it will, and only if it will, its population and its economy will recover faster and better than other European countries. A chance to demonstrate leadership.
---
EndCoronavirus.org is the world's largest organisation to fight COVID-19, with 4000+ scientists, doctors, engineers & analysts, from NECSI / Harvard / MIT / IIT / IIM, monitoring the spread & control of COVID-19 since January. We have published the most effective set of guidelines for governments to fight the pandemic.
Our efforts were critical in the US in banning flights from China in Jan & other early outbreak control measures in the EU & in India. We work with governments to implement guidelines from our learnings in other countries that have stopped the outbreak. This includes guidelines for zoning, risk-assessment, healthcare prep, high risk institutions, grocery stores & essential services.